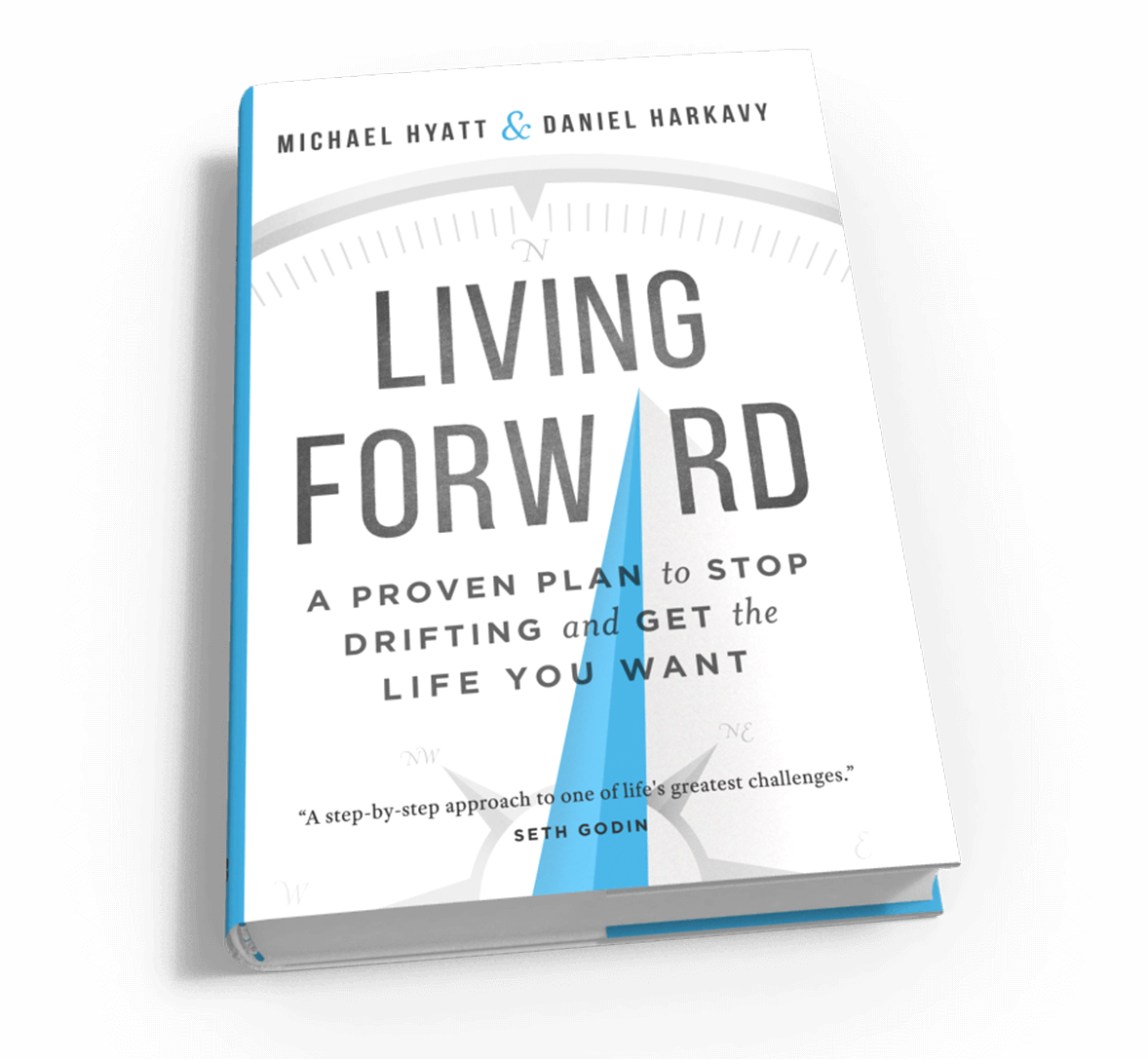 Living Forward: A proven plan to Stop Drifting and Get the Life You Want is currently the #1 Bestseller in the Work Life Balance in Business section of Amazon.  Written by Michael Hyatt (Platform: Get Noticed in a Busy World, 2012) and Daniel Harkavy (Becoming a Coaching Leader, 2007) and published March 2016, this book is a quick motivational read that promotes deep thinking about one's life which could lead to dramatic personal changes in one's goals and outlook.
Readers of this blog will already recognize Michael Hyatt's name since I have been a longtime follower of his blog and have linked to several of his valuable blog posts on Evernote and other topics of productivity.  With Living Forward, Michael & David move beyond productivity topics into the personal coaching realm, challenging us to think about all aspects of our lives and make intentional decisions for today which will impact our lives from now into the future.
"Why is it that we never take the time to align the reality of our life with the desires of our heart?"       Michael Hyatt.
This engaging book makes this reader feel as though she is present at a motivational seminar, and that David & Michael are right in front of us, determined to help us rediscover the priorities we have in all facets of our lives. The authors introduce the process of developing a "life plan" which will be used to refocus and realign an our life choices to reflect our newly defined personal priorities from this day forward. The authors explain "the drift," that state in which many find themselves as they suddenly look at their lives and realize their life has not led them where they would have chosen.
"You are either living your OWN plan, or someone else's plan FOR you."  Michael Hyatt.
Life planning, similar to individual financial planning for retirement or strategic planning for businesses, provides a life structure based on deliberate intention and a guide for future decision making in light of those intentions. Using an engaging style with many antidotal examples their personal lives and the lives of their clients, the authors provide numerous reflection questions and companion web resources for practical application of the living forward methods described.
If you aren't too sure how you got to where you are today, or are not sure you want to be where you currently are, this book is worth reading.  I think it would be a great gift for new graduates also.  Just think, how might our lives had been different if we had kept a clear picture of our goals and priorities in front of us at each step along the way.