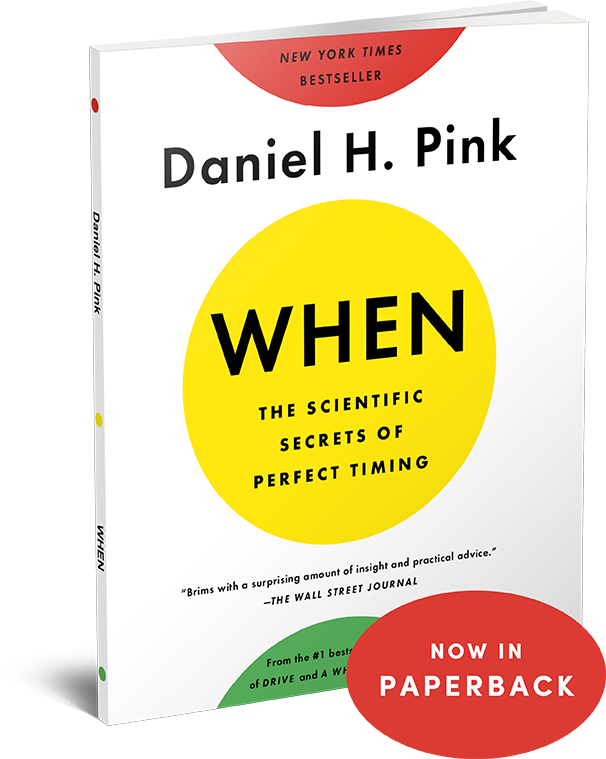 One aspect that individuals interested in personal knowledge management find fascinating is time.  The productive use of it, the seeming scarcity of it, ways to lengthen it and just the best way to squeeze more into our days. Enter Daniel Pink with his book, When: The Scientific Secrets of Perfect Timing. While not a new book (it was originally published in 2018), it was an instant New York Times, Washington Post and Wall Street Journal bestseller and worthy of taking a second look at if you missed the initial release.
Pink spends the first part of his book explaining that timing is not an art, but a science, based on well researched theories of circadian rhythms which cause us to follow the same general cycle each day no matter our age, nationality or time zone. Pink assimilates research findings from psychology and biology and neuroscience to help extrapolate scientific knowledge into practical applications to help us all live more successful and productive lives in a way that complements our natural rhythms.
For example, Pink discusses the common progression of team-based projects, where early brainstorming and false starts in the wrong direction are often looked at negatively.  Instead, Pink suggests, consider this just an expected part of the project cycle, recognizing research has shown that teams generally gain greater focus and momentum slightly after the midpoint of a project so this earlier "slow start" is actually much more on target than it appears.
Part three of his book changes the focus to "Synching and Thinking" and centers around ways to energize groups to improve overall results.
Pink's book includes engaging stories and each chapter has a practical "Time Hacker's Handbook" section of strategies and suggestions for implementation. His engaging delivery makes this a quick read.  Take a look at the video below for an interview with the author.