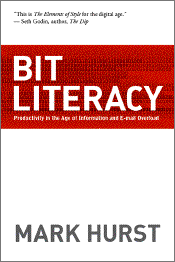 Bit Literacy is not a particularly new book (it is currently available free on Kindle and iBookstore!).  It was, after all, published in 2007, but its tag line: Productivity in the Age of Information and Email Overload, still strikes a familiar chord in us all.  Hurst also recently floated to the top of the public eye again with his February 28th blog post "The Google Glass Feature No One Is Talking About"  which has been shared in multiple languages more than 20,000 as of March 12th.  It is a piece worth reading, but at the risk of being somewhat cliché, I don't intend to really talk about Google Glass today.
My current focus is Hurst's book.   Hurst defines Bit Literacy as the toolbox of skills and applications that allow an individual to thrive in the information age of the world today.  He begins the journey in our email box.  His premise, like those of many productivity experts, is that email should only be touched once and that email is not the place to store to-do list items.  A discussion then follows on the features of common to-do tools and the limitations.  Hurst describes a method of handling to-do lists that I love.  He also created a tool that applies the method very cleverly called Good Todo.  It works with all email systems, on various platforms but comes at a price.  His free trial is very limiting as you can only have ten to-do items a day.  The full version is currently $36 a year.
What I like about his tool and his method of handling to-do items is two-fold.  First, effective to-do lists should be more than a simple notation.  Instead, Hurst advocates items that are similar to email in that there is a single descriptive line, but that can be clicked to see more details of the item.  Second, he advocates having to-do items split onto separate days like a calendar.  We only look at the to-do items we will be actively working on today and place other to-do items on subsequent days.  Each day, any incomplete to-do items would move to the next day's list.  This concept allows us to create a workable method of moving emails and reminders for future events to the date on which they need to be addressed and solves the problem of keeping track of to-do items that might be weeks or even months away.  Hurst's tool is also set up with an almost infinite series of email address variations so that emails can be forwarded to the correct to-do list date.  This can be accomplished by duration (ie, send an email to the to-do list one week later) or date.  It is a slick method that is intuitively appealing to me.  The only other application (or combination of applications) that I am aware of at the moment that comes close is Microsoft OneNote in conjunction with the Microsoft Outlook calendar. Outlook has the capability of linking with OneNote pages and thus could be used to link more detailed to-items in a method similar to Hurst's method.  The catch is that a large subset of the population doesn't use Outlook as their calendar, and my place of work falls within that subset.
But Bit Literacy does talk about more than just to-do lists.  Hurst also addresses the information overload from all types of media today.  The reality is that no one can keep up with the pace of the information bombarding us each day.  There should be no guilt involved with this realization; rather, the goal is to identify a small subset of sources that we consider essential to being informed.  There can be work sources, sources informing your hobbies and personal life and sources that are consulted on a less frequent basis.  The key is carefully considering and then deliberately choosing which sources we allow onto our list, and keeping the "stars" (sources we regularly read cover-to-cover) a very small, elite list.
The author next discusses methods of organizing and handling photos.  The goal is to collect photos in one place, keep only the very best photos that are taken, and organize them in a way that will be easy to retrieve, to share and to enjoy.  Scrapbook aficionados  will resonate with his ruthless discard of multiple shots, keeping only the very best photos of a given event or subject.  While I like his ideas of take a lot of photos, keep only a few – the best- I personally find his organization scheme (by year photo taken, then by month) to be unwieldy.  I would personally  never find my photos again if I had to remember the year I took them.  While this does make sense as metadata to capture (to identify how old the subjects were, when that vacation happened), organization by topic makes more sense as the high-level sort for me.
I have not covered all the topics that Hurst addresses in his book.  He has chapters devoted to file management, management of items you create, etc.  I have only hit the highlights.  Do I recommend his book?  I found it to be very readable, and as I indicated at the start of this post, an ebook version is currently free on Kindle and Apple's iBookstore.  I have hit what I considered to be the highlights here.  The major take-away for me is his method for handling to-items.  I'm not ready to invest in his Good ToDo app yet, but I will continue to ruminate on his concepts and framework as I consider my current systems and how I might improve them.